Samastha 5.0 is an online pitch event organized by TECHIN and GSCoE to identify technological solutions that are at Technology Readiness Level (TRL)-5 and above in the field of sanitation. Samastha 5.0 invites ideas and products aligning with the problem statements (themes) for possible incubation. Interested teams may apply using the below link:
The applications will be reviewed by a team of experts, and a list of selected teams for the first round of pitching will be announced. This round involves both mentoring and pitching. Successful candidates in this round will advance to the final pitching round. 
Winning teams of the final round may be awarded a grant up to Rs 20 lakhs. The exact grant for each winning team will be determined based on the declared need of the team and the recommendations of the evaluators.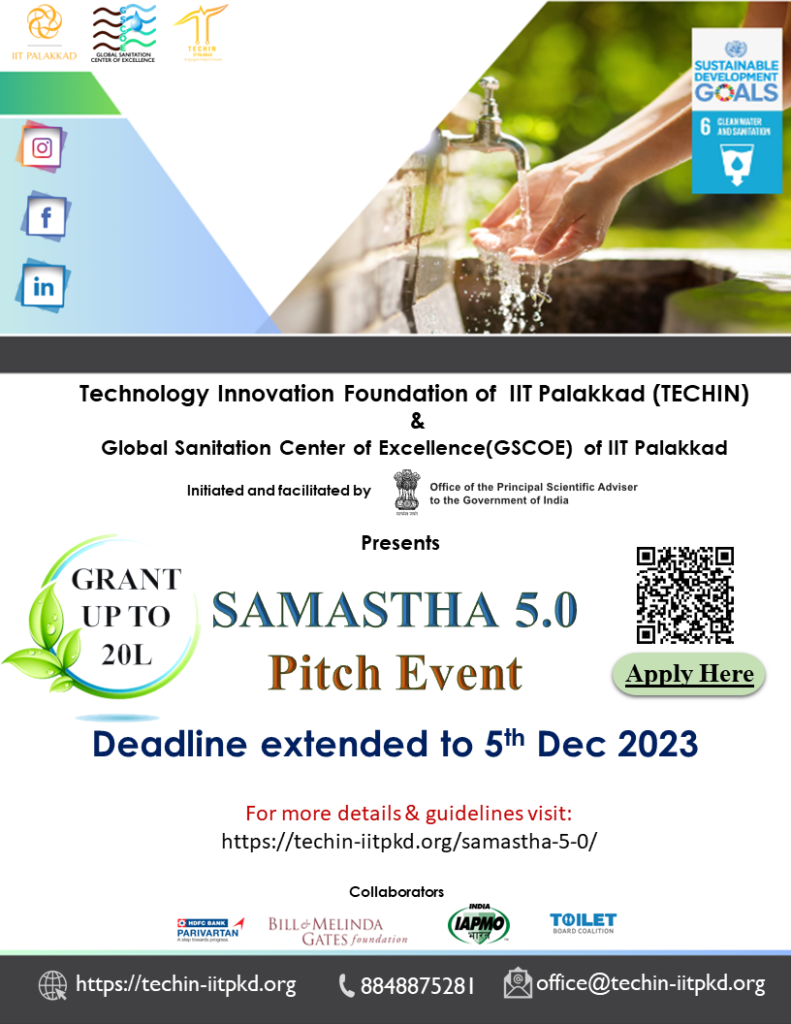 Incubation at TECHIN includes:
Mentoring by world class mentors, faculty, entrepreneurs, including PAN IIT network.

Incubation program for fine-tuning the business model canvas, technical and business aspects to cross the valleys of death and achieve success in the startup world.

Incubation space with connectivity.

Access to State-of-the-art fabrication and rapid prototyping facilities.

Access to consultants for legal, financial, IP, and business aspects.

Funding for incubation and go-to-market strategy.

An opportunity to pitch to Angels and Venture Capitalists.

Connections to NGOs and Government agencies for field site testing.                                                   Apply before: 05 Dec 2023, 5PM