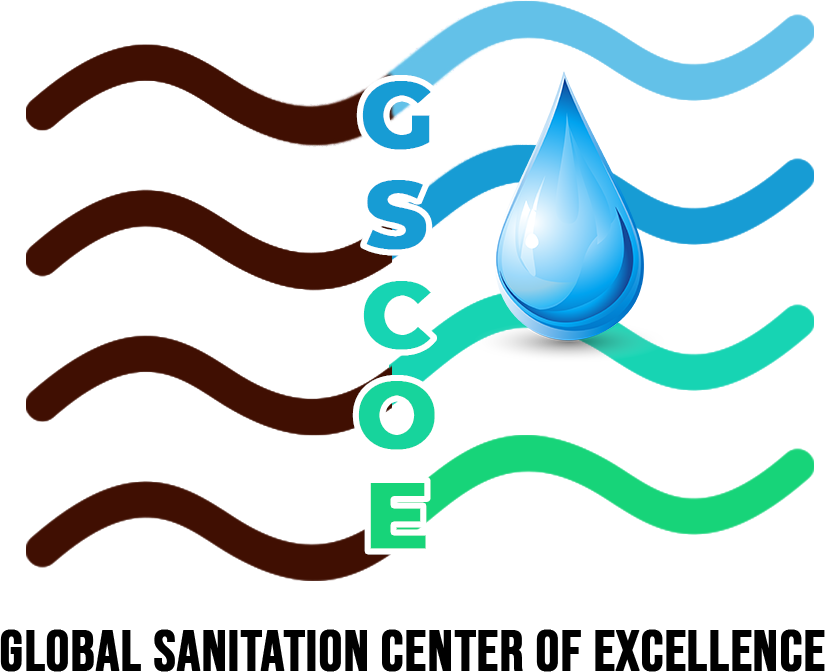 Global Sanitation Centre of Excellence (GSCOE)
About GSCOE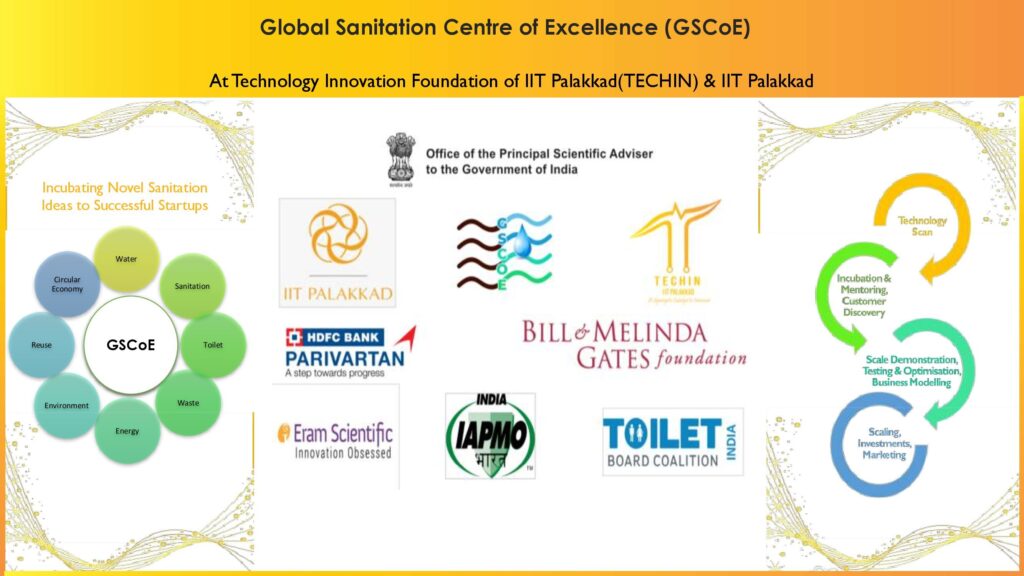 Global Sanitation Center of Excellence(GSCOE) established in Jan 2022 at Technology Innovation Foundation of IIT Palakkad(TECHIN) at IIT Palakkad. GSCOE is a center for collaborative and sustainable innovation, incubation, scaling manufacturing, skill development, training showcase and deployment of Sanitation solutions. Technologies that provide reduction in pollutants and pathogens, reduction in use of vital resources and energy, improvement and efficiency in recovery of nutrients, energy, creation of products and bi-products that can benefit the society and also provide livelihood, safe and clean sanitation would be the primary focus of the center.
Principal Scientific Advisor's Office (PSA office) facilitated this GSCOE and is providing continued support by being part of the Governing Council.
IIT Palakkad and TECHIN in collaboration with the following entities:
HDFC BANK CSR (the funding agency for the Incubation of of teams under GSCOE)
Bill and Melinda Gates Foundation(BMGF)
ERAM Scientific (ERAM), the Industry collaborator for Scale testing and manufacturing
International Association of Plumbing and Mechanical Officials(IAPMO)
Toilet Board Coalition(TBC)
NGOs (including Keystone Foundation, S3IDF, DICCI) working in the Sanitation domain and tribal, women, underprivileged (including those who are involved in manual scavenging) will enable field test locations
Government entities both state and central, local governing bodies will enable field test sites
It will have NGOs (including Keystone Foundation, S3IDF, DICCI) working in the Sanitation domain and tribal, women, underprivileged (including those who are involved in manual scavenging). These entities will be the driving force and change creators in this center.

The objectives of the GSCOE are as follows:
Identify ideas and work above technology readiness level 5 for incubation in the domain of Sanitation
Incubate these teams with the technological ideas
Enable formation of startups
Scale and Manufacturing with support from the Industry
Skill development and training
Showcase the products and bi-products
Re-invent technologies for localised soil, environmental and climatic conditions
Create entrepreneurs, micro-entrepreneurship and alternate livelihood impact through these technologies
The domain will include the following topics:
Safe and clean sanitation
Sustainable sanitation solutions
Energy from sanitation waste
Creation of Bio-fertilizers, nutrient extraction and other bi-products
Reduction in use of water, energy, pathogens
Localized Treatment of sanitation outputs
Reduction in manual scavenging and the need for manual scavenging
Livelihood creation and alternate livelihood opportunities for the underprivileged, women, and workers in the sanitation and manual scavenging sectors
Facilities
Apart from the fab lab of TIC, there is a wet lab with facilities to test and develop solutions for this domain
About IIT Palakkad
IIT Palakkad is a third generation IIT started in 2015. It is situated in the Palakkad region and its new campus is located on a picturesque 500 acres at the foot of the Western Ghats. The Institute has bachelors programs in 4 core disciplines, master and doctoral programs in various disciplines apart from the core disciplines. The masters programs include a program in data science and in manufacturing. There are close to 1000 students and 90 + faculty. The Institute has state of the art facilities for research and development in areas ranging from micro-nano fabrication, high performance computing, computational imaging, materials and manufacturing, instrumentation, for Innovation, and fabrication of prototypes. The young dynamic faculty, doing research in frontier areas with International and National collaboration with academia and Industry provides a fertile ground for generation of new ideas for research and products.
About TECHIN
Technology Innovation Foundation of IIT Palakkad (TECHIN), a section 8 (not for profit) company set up as an Incubator arm of IIT Palakkad. TECHIN is a collaborative entity with Institutes and Industry to create an impactful innovation ecosystem, discover disruptive technologies and enable entrepreneurs & startups. Multiple centers of excellence are emerging under this company, with initial focus on water sanitation and hygiene, and biomedical devices. A Technology Innovation center will take care of all the training, innovation and incubation needs for the startups across domains.
TECHIN conducts pitch events, workshops, hackathons. Teams are selected for pre-incubation, incubation or acceleration depending on their stage of growth. The ideas that are selected include domains in sanitation, medical technological devices, smart mobility, Intelligent collaborative systems. The ideas selected thus far had relevance to current challenges in the world including sustainable, electric mobility and wireless long range communication in emergency situations.