Prabhaav | प्रभाव INNOVATION GRAND CHALLENGE
GSCOE under TECHIN is hosting 'Prabhaav|प्रभाव INNOVATION GRAND CHALLENGE' focusing on Sanitation, Hygiene (Toilet, sewage treatment, septic tanks) and related thematic areas with the objective to foster/ nurture growing entrepreneurs in the country.
The event will be scheduled from January to May 2023 in hybrid mode with multiple in-person and online events across 4 South Indian cities. This event will be a platform for integration and collaboration on technological advancement, business possibilities and impact generation through a holistic approach to sanitation for the overall welfare of society and the country.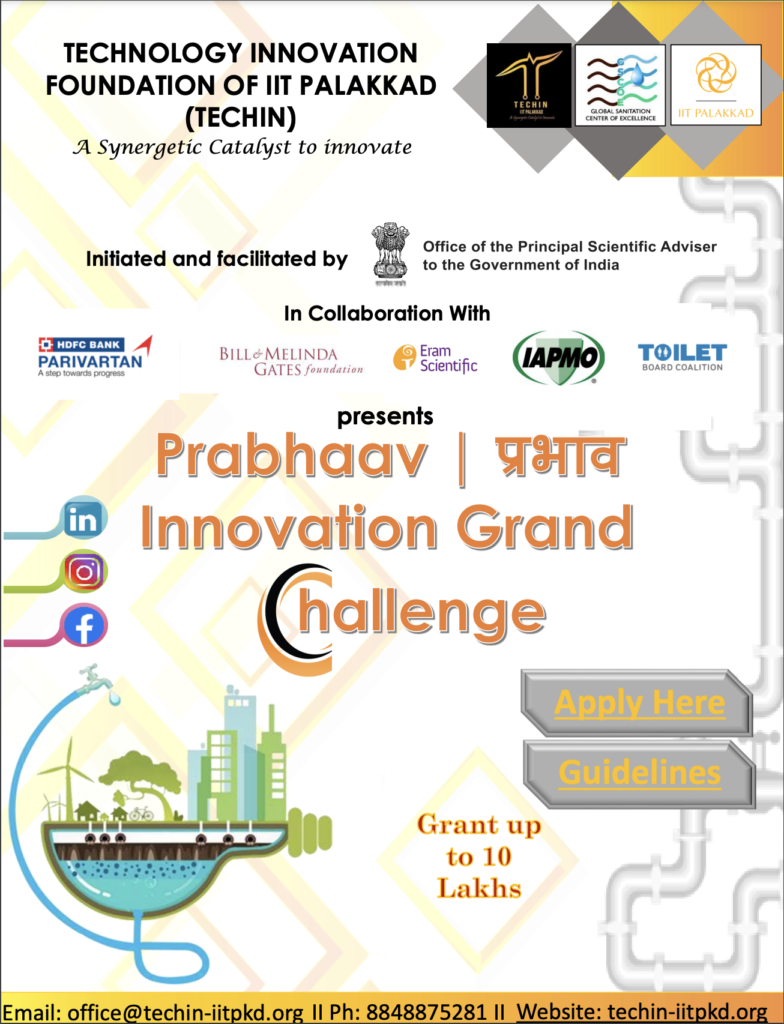 Idea Pitch talks /panel discussions – Prabhaav | प्रभाव  Innovation Grand Challenge:
Applications are invited for sanitation idea pitches (5 min and 5 min Q &A) in respective cities as part of the offline portion of the Prabhaav| प्रभाव  Innovation Grand Challenge. Each team (max 3 members) can apply only in one city and also in the main Grand Challenge(which has a separate form). Winners of Idea pitch at each city will receive prizes of upto INR 5000/- and a certificate. Participants of the Idea pitch event will recieve participation certificate.
Apply here for the idea pitch  Idea Pitch Application form
Limited slots exist and only top 8 teams will be selected to pitch in each city. Application for Idea pitch for each city closes three days before the event. Follow the template in the guidelines document for the pitch.
ONLINE  TALK on Sanitation Innovations – 28th January 2023 at 10:00 AM – Click here to Join the talk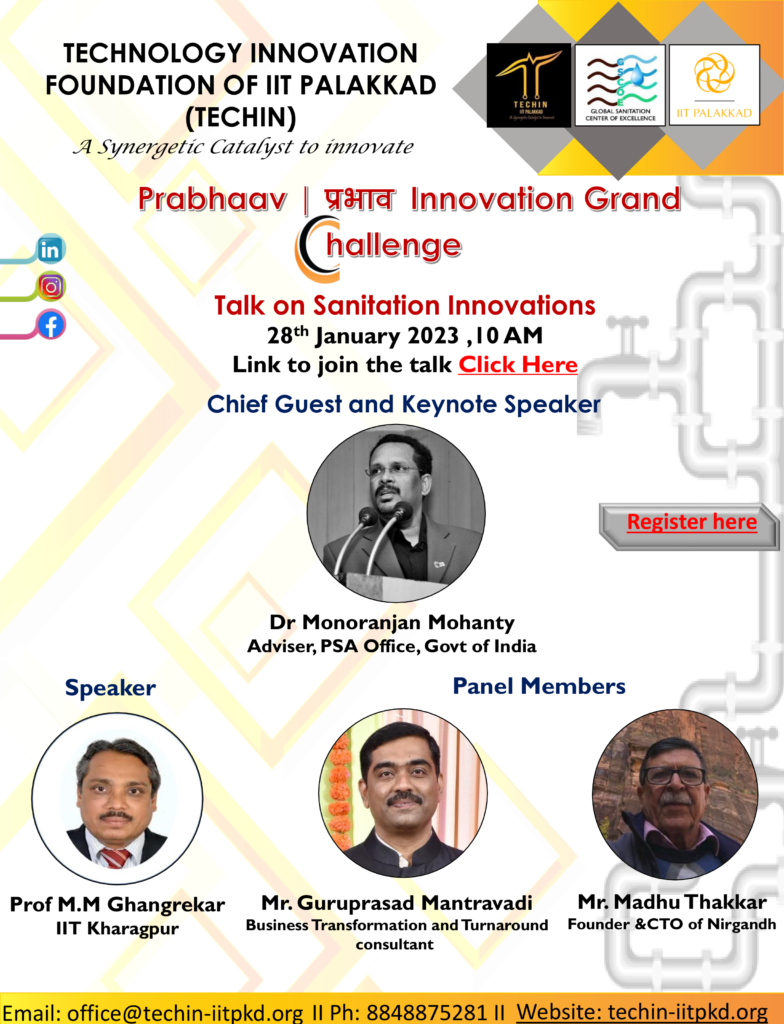 Talk and Panel Discussions at Coimbatore at Hotel Gokulam Park on 4th February 2023 from 09:30 AM on Theme Hygiene will have various eminent speakers and panel members. Ms Shantha Sheela P- FAME TN MSME and  Dr Praveena Gangadharan – Assistant Professor would be the speakers of the event. There would be a panel discussion on Domestic Hygiene – Toilets and Household systems with Mr Ram Siva Prakash – IPA , Mr Pratim Roy – Keystone and Mr Satish Kumar – Consultant , ex MD Henkel Spic Panel Discussion on On-site and Community Sanitation with Dr Jyotsna Krishnakumar – Keystone, Prof. B L Sathyamoorthy – Prof KCT Coimbatore and Mr Prakash – Consultant  and Panel Discussion on Business Concepts for WASH startups with Mr B Krishnamoorthy – TIE Chapter CBE and Mr M. Sendilkumar – SITARC.
People interested in attending the city events should register here Attendee Application Form. Please note only limited seats are available. We recommend 3 attendees per Institution/ Organisation.
Applicants will have the opportunity to present their solutions and ideas to an expert audience while the program will facilitate the entrepreneurs in leveraging domain expert advice on a case to case basis. Applications will be accepted from January to 3rd March 2023.
Industry, academia and people interested in the domain will gain from the talks and panel discussions scheduled to gain and contribute to the ecosystem development.
The event expects offering the winners exciting prizes including prototype funding, incubation grants, technical and business mentoring, prototyping assistance, capacity building for scaling and go to market strategy and a host of other nudges and support.
Themes:
Pathogen free Resource recovery from Sludge/septage/sewage
Compact odour free on site greywater treatment/ safe disposal techniques/devices
Improved modular septic tanks/ in-situ sewage treatment systems with lower footprints
Innovative toilet designs for water use reduction to minimum 30%
Comprehensive toilet cum treatment systems (zero liquid discharge type etc.)
Safe, sustainable and Cost-effective toilet cleaning solutions (solid, liquid or gas)
Toilet Cleaning/disinfection devices – semi-automated or automated cleaning
Nature based technologies for sewage and greywater management
Leak detection and plugging techniques in sewers.
Sewer based Community Health monitoring equipment/ systems.
Innovative sewer replacement techniques
Modular Automated sewer pumping systems.
In line sewage treatment systems – Modular units installed in sewer lines
Improved sewer construction techniques/ devices/ components
Improved sewage pumping systems for household collection/ maintenance
Improved Appliances for Sewer jetting/ cleaning and O&M of sewers
Comfortable and usable personal protective equipment for sanitary workers
Treatment plants for high water table areas, hilly regions, other terrains
Maintenance and monitoring of hygiene and disinfection in toilets
Toilet solutions for disabled individuals/ patients
Retrofitting treatment solutions for septic tanks for zero solid and water waste
Menstrual hygiene solutions which are biodegradable or provide treatment options
Energy neutral/ efficient treatment technologies for municipal sewage treatment