Global Sanitation Center of Excellence (GSCOE) was established in Jan 2022 at Technology Innovation Foundation of IIT Palakkad (TECHIN). GSCOE is a center for collaborative and sustainable innovation, incubation, scaling manufacturing, skill development, training showcase and deployment of Sanitation solutions. Technologies that provide reduction in pollutants and pathogens, reduction in use of vital resources and energy, improvement and efficiency in recovery of nutrients, energy, creation of products and bi-products that can benefit the society and also provide livelihood, safe and clean sanitation would be the primary focus of the center.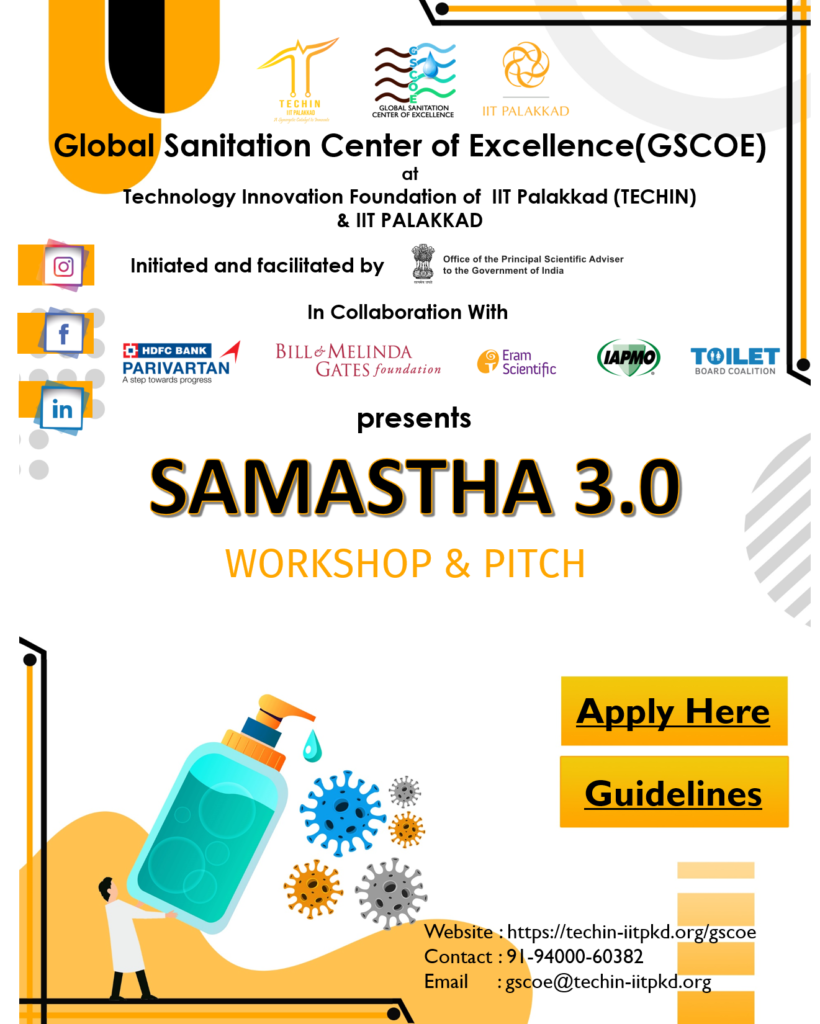 Sanitation in India requires tremendous improvement. The current state of Sanitation has an impact on health, hygiene, environment, water available, water contamination. To address this we bring SAMASTHA 3.0,the third Workshop & Pitch of Global Sanitation Center of Excellence (GSCOE) at TECHIN of IIT Palakkad. SAMASTHA 3.0 will be an online event spread over from 7th Nov 2022 to 28th Nov 2022.
The problem statements will be based on:
Toilet maintenance, cleaning and sanitization
Toilet in-situ treatment of sewage
Pathogen free and energy efficient sanitation
Improved STP and septage treatment
Sewer block removal and in-situ sewage treatment
Circular economy from Toilet and sewage – details are in the guidelines document
This is not only a standalone event and participants have to think of actually going on to make a product and deliver it to market, post the event in the incubation phase. The event being online, the hardware challenges would require the design, the drawings and simulations to be demonstrated. The selected teams after this event will be incubated by us and will get the opportunity to build their prototype, field test, mentored, assess the business viability and eventually deploy the products with innovation grant upto ₹10L. This has to be achieved in a short time span such that we can make a difference to humanity by creating a clean and safe environment.
Last date of application – 07th Nov 2022