Global Sanitation Center of Excellence (GSCOE) was established in Jan 2022 at Technology Innovation Foundation of IIT Palakkad (TECHIN). GSCOE is a center for collaborative and sustainable innovation, incubation, scaling manufacturing, skill development, training showcase and deployment of Sanitation solutions. Technologies that provide reduction in pollutants and pathogens, reduction in use of vital resources and energy, improvement and efficiency in recovery of nutrients, energy, creation of products and bi-products that can benefit the society and also provide livelihood, safe and clean sanitation would be the primary focus of the center.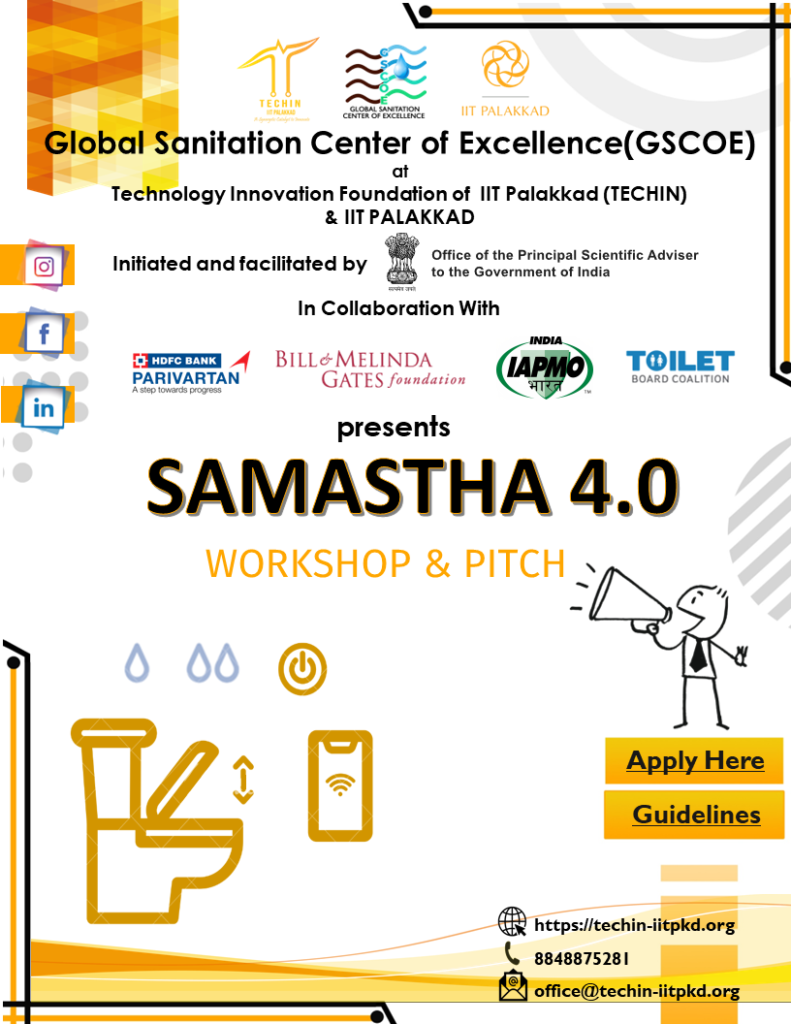 Sanitation in India requires tremendous improvement. The current state of Sanitation has an impact on health, hygiene, environment, water available, water contamination. To address this we bring SAMASTHA 4.0,the fourth Workshop & Pitch of Global Sanitation Center of Excellence (GSCOE) at TECHIN of IIT Palakkad. SAMASTHA 4.0 will be an online event spread over from June 2023 to July 2023.
The Ideas will be multidisciplinary in nature and should address a problem or need in any one subtheme only. The Interactive Workshop will consist mainly of Business workshops to polish the candidate teams' Business model canvas and ascertain initial customer segment, value and market for the solution. Some subthemes may have some technical sessions as well.
The problem statements will be based on:
Smart Toilet Technologies
Onsite sanitation systems
Faecal Sludge and Septage management technologies
Greywater Treatment
Nature based technologies (NbS)
Sewer Reconstruction Techniques
Automated Sewer maintenance
Cleaning Solutions for better Hygiene
Improved Menstrual Hygiene Products
IoT applications in sanitation
This is not only a standalone event and participants have to think of actually going on to make a product and deliver it to market, post the event in the incubation phase. The event being online, the hardware challenges would require the design, the drawings and simulations to be demonstrated.
In the spirit of engaging the community in our innovation efforts, the prizes for the teams will be determined based on the declared need of the winning teams, and the interest the idea is able to generate from angel investors and other sponsors. We expect to provide prizes with incubation grants worth upto Rs 10L towards incubation and other forms of support for the winning teams. Terms and conditions of incubation agreement will apply. Each Theme will have multiple prizes.
Last date of application – 7th July 2023