Mini Pitching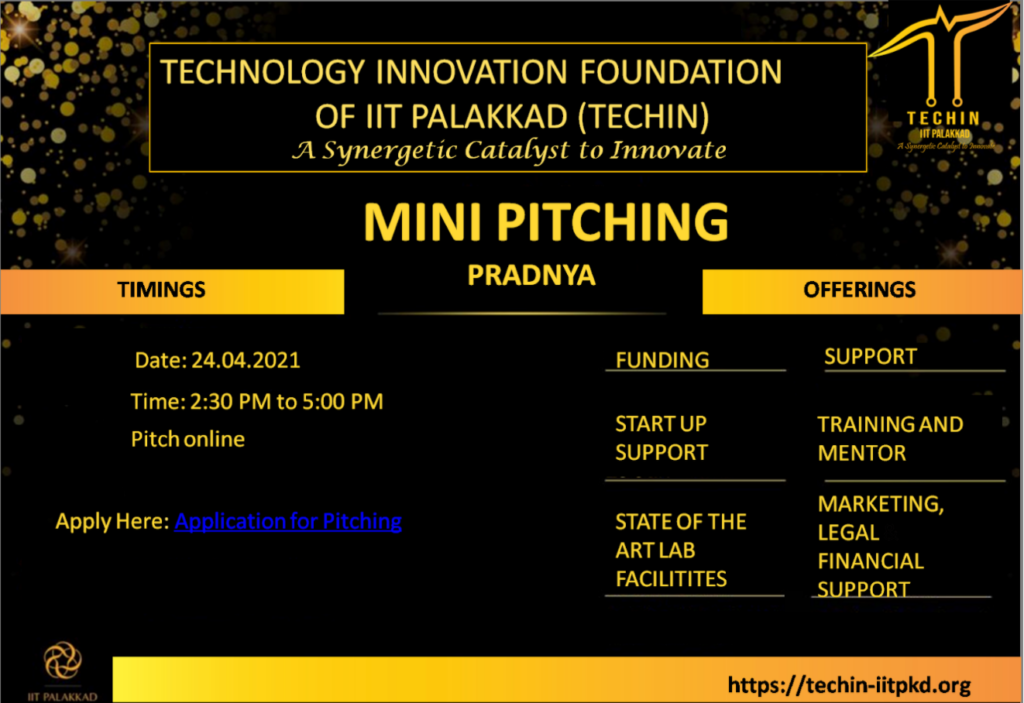 If you have an idea(in any domain) that you would like to pitch, this is the time to get started. Please fill the pitch application and submit before midnight of 19th April 2021. There is a slide template for your pitch and you need to answer the questions in the slide deck. You can upload a 3 min video of your prototype/simulation of your idea.

The idea must emanate from a deep rooted problem/need/gap that you are trying to solve. The solution can be a for-profit business product/service or a social solution. It has to be a unique solution and definitely have a unique selling proposition in terms of one more more of the following – functionality, features, aesthetic appeal & ease of use, cost of production vs selling price, improvement over what is already available in the market.

The shortlisted candidates will br required to pitch (online) in front of a panel on 24 April, 2021. Timeslots will be communicated.
Once selected by TECHIN for incubation, the team will receive funding, mentoring for technical and business aspects to help the team form a startup and take it forward. There will be periodic programs that you will be expected to undergo. Access to the fabrication facilities and central facilitied of IIT Palakkad at subsidized rate will be available to the incubatees. You will be the driving force behind your idea and we are the guides along the way.

The selection process will include technical and business idea evaluation and ideas with potential will be selected. The teams that require some inputs even before they get incubated will be asked to undergo the first level program. The teams which have some clarity will go into the second level program.

The selection panel(comprised of internal and external people) will decide the level and amount of funding and the duration of the initial incubation. Their decision in final.
The incubation process is an iterative process and requires patience and hard work to succeed. Though the journey is fraught with hurdles we are here to guide you.

In the form or pitch template, if you do not have answers please mention "not yet" or "NA" as the case may be.